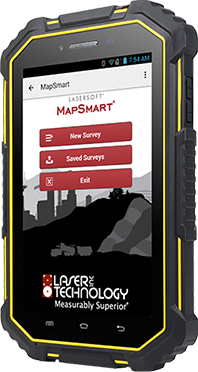 ---
Experience an Easy Workflow
Enjoy the simplicity of a mapping app that is easy to understand and intuitive to use, even if you don't map that frequently. Take advantage of the built-in help menus and on-board manual
---
Take Photos Within Your Map
Every photo taken is automatically saved with a file name, point number, and notations. Take photos from your instrument position or dismount your phone or table and get close-up shots.
---
Quality Check Your Data in the Field
Watch your map take shape as you collect points. Use MapSmart's Point Detail feature to review and edit data before you leave the job site.
---
Save Your Map in Multiple Formats and Email Away
Use email and enjoy cable-free data transfer to move your maps from your tablet to your PC with the ability to export in PDF, ASCII XYZ Dec, Text Report, Spreadsheet Report, CAD file, Raw Data, Graphic, Template or all the above.
---
Also Measure Stockpile Volumes
MapSmart not only can be used for laser mapping applications, but it also can be used to measure the volume and tonnage of any stockpile of any material.
---
Try it for Free for 30 Days! Search "LaserSoft MapSmart" or click on the icons below!