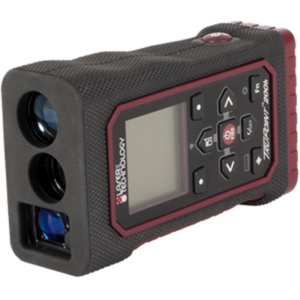 TruPoint™ 200h
The world's first laser to provide accurate long-range outdoor measurements plus short-range high accuracy indoor measurements. Ideal laser for all types of 2D measurements making daily work easier, safer, and more efficient for professionals.
---
HUD Display
Ultra bright in-view display works in all worksite lighting conditions; indoors and out!

---
Ruggedized Exterior
Designed for everyday use under harsh conditions with ultra-rugged IP67 dust proof/waterproof construction for today's active workforce.

---

SMART Device
Combines the Bluetooth® Classic and Bluetooth® SMART (Low Energy) wireless technology to connect to any type of data collection device.
---
TruPoint 200h Specifications
Laser Rangefinder Solutions: Horizontal Distance, Vertical Distance, Height and 2D Missing Line
Distance Meter Functions: Add/Subtract, Min/Max, Area, Volume, Recall
Distance Accuracy: +/- 2-4 cm (0.8 – 1.5 in) pulse technology, +/- 1.5 mm (0.05 in) phase technology
Inclination Accuracy: +/- 0.1 degree typical
Max Distance: 500 m (1,640 ft) pulse technology, 100 m (328 ft) phase technology

---
Compatible Data Collection
---
WorkSite App
Document Your World: Like a trusty clipboard that fits in your pocket, the WorkSite app stores all the most important measurement information for your project on your smart device. Collect Any Combination of Measured and Calculated Values from the TruPoint 200h.